PREMIER WORKSHOPS
Workshops Coming in 2020-2021
November 10-11 and 12-13, 2020 – Don Andrews "Landscape Color and Composition"
January 12-15, 2021 - Andy Evansen "Learn to Paint Stronger, Simpler Watercolors"
February 9-12, 2021 – Mark Mehaffey "Experiment For Fun, Design and Success"
March 9-12, 2021 – Graham Berry "People at Work and Play"
---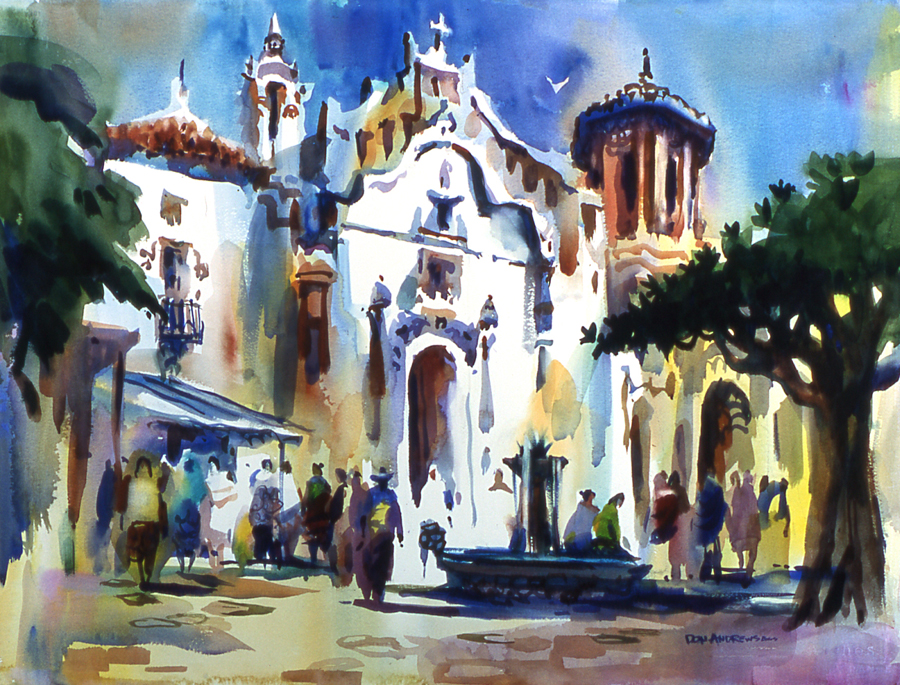 DON ANDREWS
November 10-11 and November 12-13, 2020 (two 2-day workshops)
$225 SAWG Members, $275 Non-Members
"Landscape Color and Composition"
All Skill Levels
Don Andrews is a nationally known watercolor artist, author and workshop instructor who has conducted painting workshops throughout the United States, Canada, Mexico and Europe for over 30 years. Don is an active member and past board director of the American Watercolor Society. His paintings have received numerous awards in national watercolor competitions including three awards from the American Watercolor Society.
Learning to paint with watercolor should be fun! Don's Landscape Workshop is geared specifically for artists eager to paint and study in a no-stress studio environment.
Each day, Don will address a major visual concern; light, color, granulation, organizing nature and utilizing negative space are just a few subjects to be covered.
Don's class isn't geared to any specific level of achievement; rather artists at all levels will benefit from a more personal understanding of the painting possibilities available in the exciting world of landscape painting. This workshop will be packed with demonstrations, discussions, individual help and personal and group critiques.
Website: www.donandrewsstudio.com
---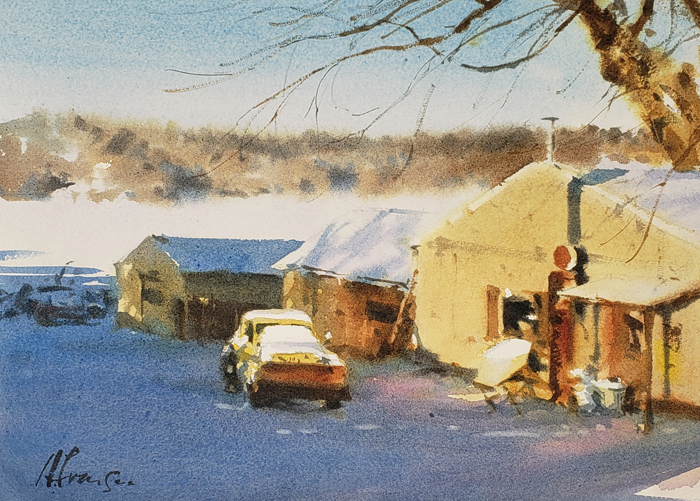 Andy Evansen
January 12-15, 2021
$395 SAWG Members $495 Non-Members
"Learn to Paint Stronger, Simpler Watercolors"
All Skill Levels
Andy's interest in art started early and he was always drawing as a child. He decided to pursue a career in art and became a medical illustrator in Minneapolis, creating artwork for medical device companies, textbooks and surgeons. Once that industry became dependent on digital art, he longed for a return to fine art and began watercolor painting.
There seems to be a never-ending quest to loosen up in watercolor and it's probably the most common goal of students. It's easy to fall into the trap of putting too much into your paintings. Andy tells his students what you leave out of a painting is as important as what you put in.
Andy's workshop will focus on using value studies from the outset to identify the large shapes in a scene. These large shapes provide the artist with opportunities for lost edges when painting in watercolor, which is essential if we are to take full advantage of the medium. Too often the 'found edges', or details, take over the painter's thinking process, and the result is a tight watercolor.
We will move on toward color paintings with a lot of individual help, and complete color painting lessons together. Demonstration paintings will be done by Andy every day to reinforce the day's lessons.
In order to loosen up it is imperative to have a clear vision of what you want to accomplish with your painting and then execute it quickly. This class will give you the tools and confidence to do just that."
Website: www.EvansenArtStudio.com
---

Mark Mehaffey
February 9-12, 2021
$395 SAWG Members $495 Non-Members
"Experiment For Fun, Design and Success"
Skill Level: Intermediate to Advanced
Internationally recognized, award winning artist Mark Mehaffey is a Signature member of the American Watercolor Society; Dolphin Fellow, the National Watercolor Society, Watercolor USA Honor Society, the Transparent Watercolor Society of America; Signature Life Member - and Distinguished Master, Watercolor West, the Rocky Mountain Watermedia Society, the Louisiana Watercolor Society; Signature Life Member, the International Society of Experimental Artists, Signature Life Member and the International Society of Acrylic Painters among others.
This will be designed to help and push all participants. The first half will focus on the use of photographic reference, simplification to get to your story and traditional handling with transparent watercolor. Composition and the use of color to create the mood you desire will also be covered. The second half of our workshop will focus on intuitive abstract painting. Exploring positive and subtractive painting methods with lots of layering will be covered. Our primary surface for this part of the workshop will be Yupo. This workshop is designed for all levels but participants should be familiar with their materials.
Mehaffey's paintings are included in corporate, public, and private collections throughout the world.
Website: www.markmehaffeyfineart.com
---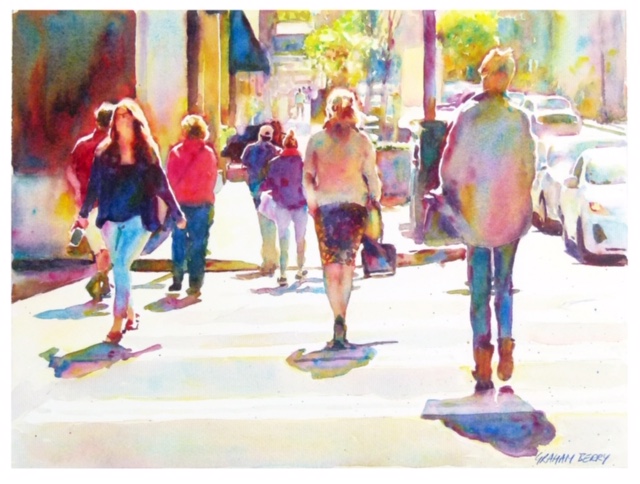 Graham Berry
March 9-12, 2021
$395 SAWG Members $495 Non-Members
'People At Work & Play'
All Skill Level
Graham studied Graphic Design and Illustration at multiple colleges in the United Kingdom. After a successful career as an Illustrator, winning a DADA award for his Illustrations and also featuring in several Association of Illustrators annuals Graham returned to his first love, watercolour painting. His paintings are inspired by the effect of light and shadow on our environment, creating dynamic shapes and colours, Graham especially enjoy painting people going about their everyday lives.
Graham's work has been selected for inclusion in North Light Books: Best of Watercolor series; Splash 14: Light and Color, Splash 15: Creative Solutions and Splash 16: Exploring Texture! Grahams paintings are now in the homes of collectors in the USA, Canada, Australia and Europe.
The workshop will focus on how to render the figure individually as well as in small groupings. Graham will demonstrate how to draw/paint the human form accurately while capturing the body in movement as well in repose. He will share tips and his techniques on how to use watercolor media to capture the illusion of light and be bold with colour! Students will work from source photographs that will be provide. Graham will paint step-by-step and the students will paint each step before he moves onto the next step and so on. Graham will also paint a demo from start to finish as a demonstration of the speed he normally works.
As a rule of thumb:
Day 1 - a single figure
Day 2 - two figures
Days 3 & 4 - three or more figures
Website: www.grahamberrystudio.com/ www.grahamberryswatercolourworld.com/
---