WELCOME TO THE SOUTHERN ARIZONA WATERCOLOR GUILD SCHOLARSHIP PROGRAM!

Southern Arizona Watercolor Guild (SAWG) has had the honor of making an important contribution to the art community and beyond through our Scholarship program. Thanks to our many generous donors SAWG has been able to award well over $100,000 in scholarships since 1986. Our scholarship program is one of our most important missions because it supports art education. If you would like to apply for a scholarship, we would be happy to assist.
WHO MAY APPLY FOR A SAWG SCHOLARSHIP?
High school seniors and full-time college/university students from the greater Tucson area and Southeastern Arizona who are studying fine arts are eligible to apply. High school teachers and professors may recommend students for scholarships or students may apply individually. Scholarship awards will range from $500 to $1,500 and up to 7 scholarships will be given. Scholarships will be sent directly to the student's school where they will be enrolled.
HOW TO APPLY FOR A SAWG SCHOLARSHIP?
Read the Application Requirements carefully and complete the Application Form. Application materials must be received by April 15, 2021.


---
PAST SCHOLARSHIP AWARD WINNERS
2020 Award Winners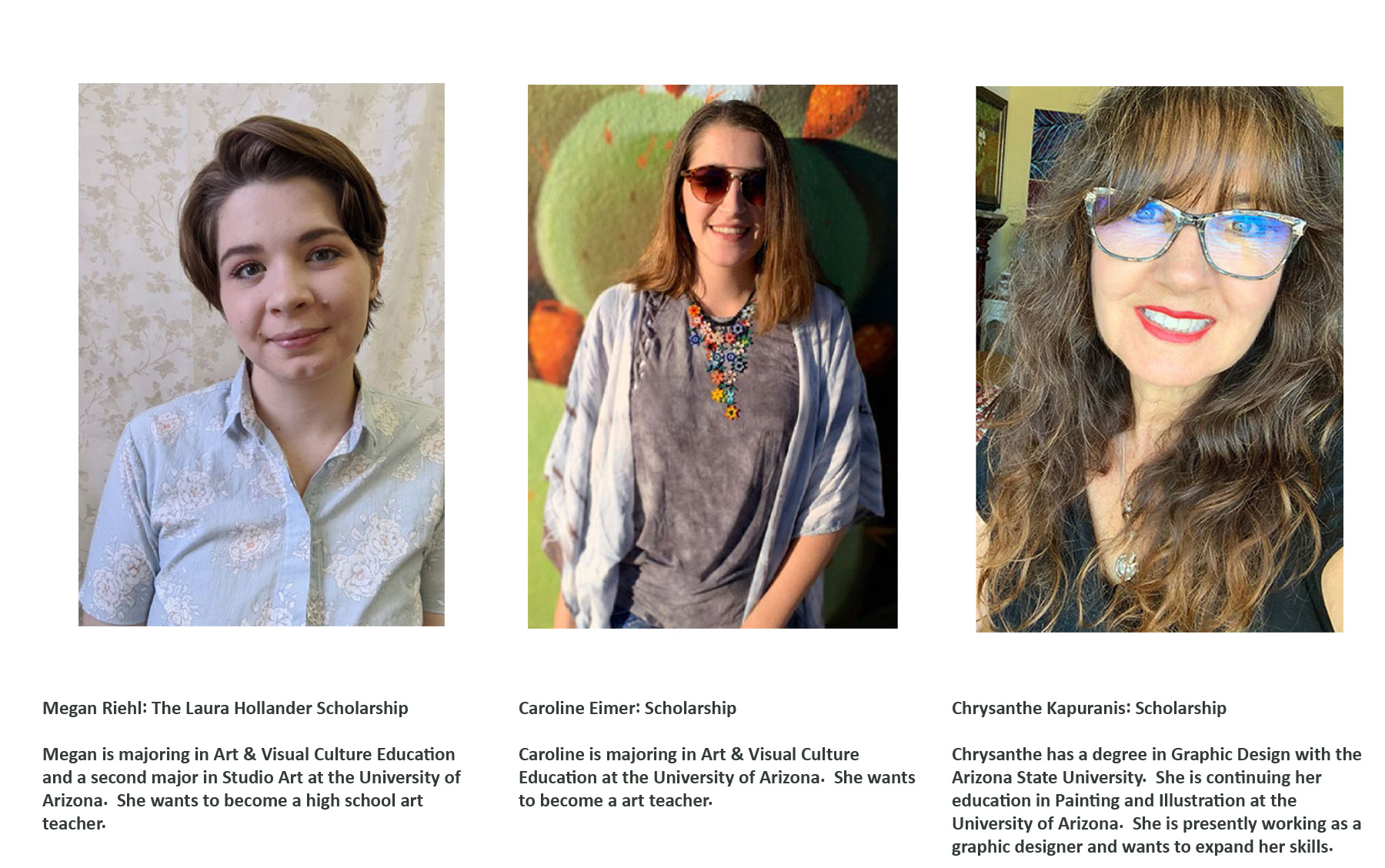 ---
2016 - 2019 High School seniors artwork from the greater Tucson area that was previously awarded scholarships.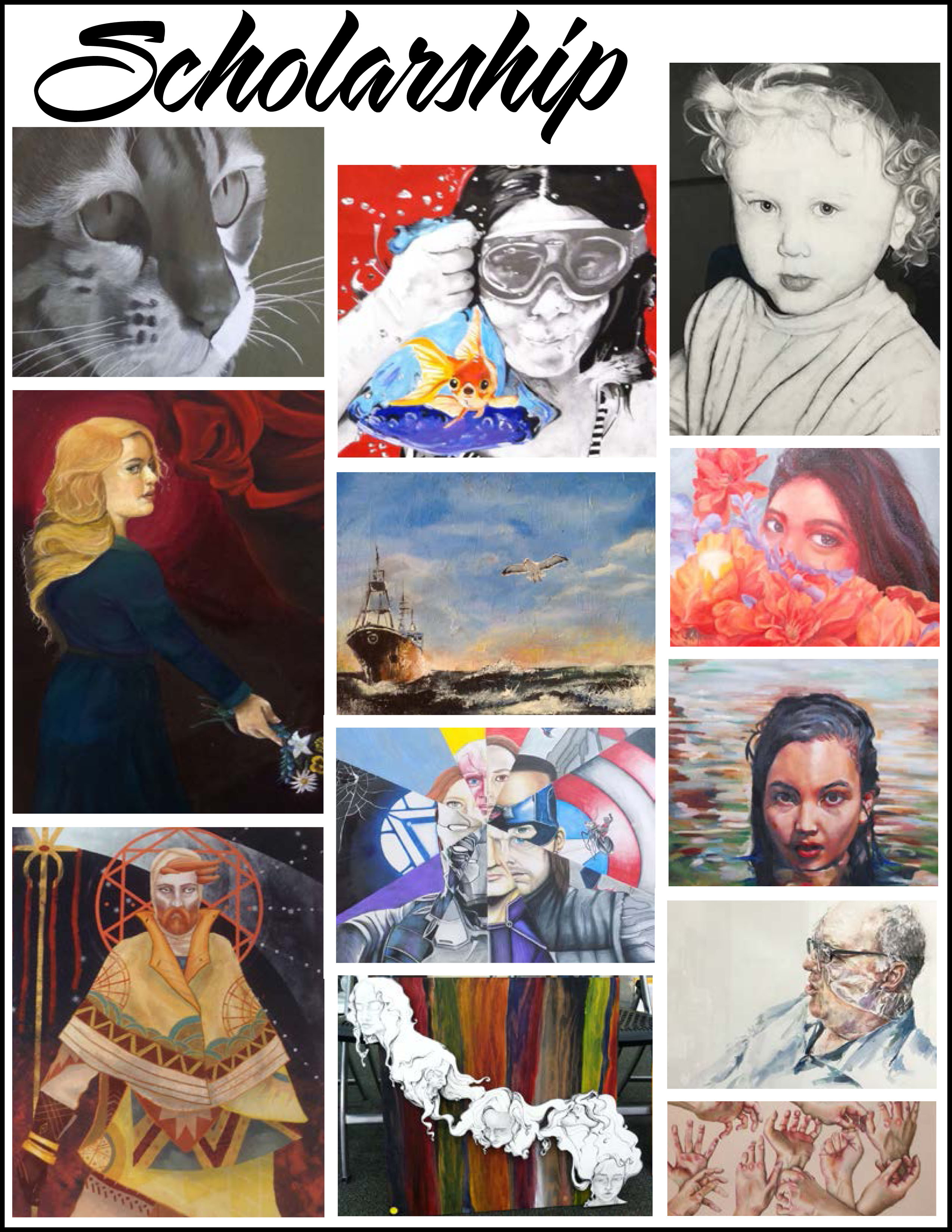 Past scholarship winners'

receptions

!
---
DONATIONS TO SUPPORT THE SCHOLARSHIP FUND
Southern Arizona Watercolor Guild supports student art education through our scholarship program. SAWG does this by providing scholarships to high school seniors and full-time college/university students from the greater Tucson area and Southeastern Arizona who are continuing their education through the study of fine arts. We could not do this without support from our sponsors.
SAWG is a 501(c)(3) non-profit organization that permits SAWG to accept tax-exempt donations for its various educational programs.
There are many ways you can support the Scholarship fund.
Donate and ensure the continuation of our mission to promote the advancement and development of art education in all its forms. No amount is too small or too large.

Make an automatic monthly donation.

Designate a Legacy Gift in your estate planning. A planned gift to SAWG through your estate will have a lasting impact on the future of student scholarships. If you would like to set up a Legacy gift to SAWG, contact president@southernazwatercolorguild.com to obtain the information needed by your estate planner.
With your donations, we have been able to support many young students as they prepare for a career in the arts.
Thank you for your support!
---
ADDITIONAL OPPORTUNITIES FOR COLLEGE STUDENTS...
INTERNSHIP WITH SAWG FOR 2021
College students - put your creative and artistic skills to work while enhancing your resume on behalf of the Southern Arizona Watercolor Guild (SAWG) of Tucson.
Requirements: College junior or senior to spend approximately 15-20 hours a week working with SAWG members to:
Support our audiovisual crew by recording virtual gallery classes and events

Support the marketing team by increasing SAWG presence on social media platforms reaching younger artists and students

Create short videos using DaVinci Resolves, Animoto, or OBS. The AV team will provide training on these software tools
Benefits: The student will be given a one-year membership in the SAWG, but the position is otherwise unpaid. By helping the AV team, you will have free access to SAWG's virtual gallery classes. Depending on the student's college programs, the Student Applicant could earn up to a maximum of 3 credits per semester.
To apply for this internship, please email your resume with a cover letter and reference letter to President Kay Sullivan at President@southernazwatercolorguild.com ASAP. Virtual interviews will be scheduled post-finals the first week in January just before the beginning of the Spring Semester.
---
2020 INTERN, JAQUELEE CHAU
| | | |
| --- | --- | --- |
| Jaquelee worked with SAWG from June to November 2020 and is a University of Arizona graduate with a Bachelor of Fine Arts in Studio Arts. Jaquelee wanted to get the experience of how a gallery functioned but unfortunately, COVID-19 closed our gallery temporarily so she had the opportunity to help SAWG in other ways. We had just purchased a new software package for e-commerce for our gallery that allowed us to virtually sell our artwork and support our exhibitions, premier workshops, and virtual classes. Jaquelee played a big part in helping us move forward in this virtual world. She learned how to shoot, record, and edit our new Virtual Classes using OBS project, DaVinci Resolve and Animoto. She also created and loaded all our social media marketing on Instagram and Facebook. Search for Southern Arizona Watercolor Guild on Facebook and take a look. We will miss Jaquelee and we wish her well on the new adventures ahead of her. | | |